Thanks to Everyone for Another Successful Year in 2023!
Sample great food from 40+ restaurants... all for One Price!
The Taste of North Texas will be held at Golden Triangle Mall in Denton, Texas supporting the Denton Noon Kiwanis Club Children's Clinic!
For one price you will be able to sample food and drinks from more than 40 local restaurants. If you have never attended, we can promise you that you will not be disappointed. Tickets prices are: $20 for General Admission (Ages 6 and older), Children ages 5 and under get in FREE. If you have any questions, email [email protected]
SPECIAL THANKS to our TITLE SPONSOR, CIERA BANK!

The Denton Kiwanis Club was chartered December 6, 1921. The club formed the Denton Kiwanis Club Children's Clinic in 1923 and has continuously provided free medical, prescription, vision, dental and counseling assistance to the children of northern Denton County. Proceeds from this event are used to support the efforts of the clinic and other youth services that the club provides. Come support this great local cause and try some of the best food that Denton has to offer!
---
See Full List of Food Vendors

WHERE: Golden Triangle Mall in Denton, Texas
DATE: Thursday, March 30, 2023
TIME: 6:00 - 8:00PM
BENEFITING: The Denton Kiwanis Children's Clinic
FEATURING: GREAT FOOD and Live Music from Denton High School Jazz Band and Guyer High School Choir and Sojourn LIVE
---
Buy Tickets!
---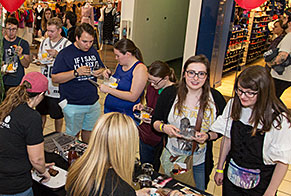 Tickets can be pre-purchased at select locations in Denton, online or same day of the event at the door. Hope to see you there!
CLICK HERE!
Vendor Info!
---
If you are interested in becoming a participating vendor, please let us know at [email protected]. Would love to have you!
CLICK HERE!
Sponsor Info!
---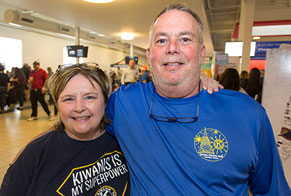 Would you like to lend your support to a great Denton tradition and a worthy cause? Find out how to become one of our sponsors.
CLICK HERE!
"Glad To Lend Our Support To A Fun Event!"...
We love the Denton Kiwanis and the fine work they do with the children's clinic. We are so glad to lend our help in order to support that. The Taste Of North Texas is a really FUN Denton event and it allows us to introduce ourselves in a unique way to many possibly NEW customers as they sample to best of what we offer!
Ken Willis,
Beth Marie's Old Fashioned Ice Cream